As an artist herself, Yvonne Singer can well appreciate the esthetic merits of the open-air monument to Swedish Second World War hero Raoul Wallenberg that was unveiled over the summer at Churchill Park in Hamilton, Ont.
Though she had not, as of this writing, personally viewed the installation, dubbed "Be:longings," Singer spoke admiringly of the 10 bronze-cast suitcases dispersed along a gravel path adjacent to the Hamilton aviary. She knows Simon Frank, one of the project's three creators, and is aware that suitcases have been a potent symbol of the Holocaust.
"I like the fact that the suitcases are scattered," Singer, a well-established visual artist and teacher in Toronto, said in an interview over lemon tea in her sun-drenched kitchen. "I think the imagery and symbolism are very effective in conveying the idea of displacement and emigration." The old-timey valises evoke not just Wallenberg, Singer noted, but all victims and survivors of that terror-stricken era.
The outdoor project is also "minimal, which I like. I don't like public sculptures that scream at you or are clichéd."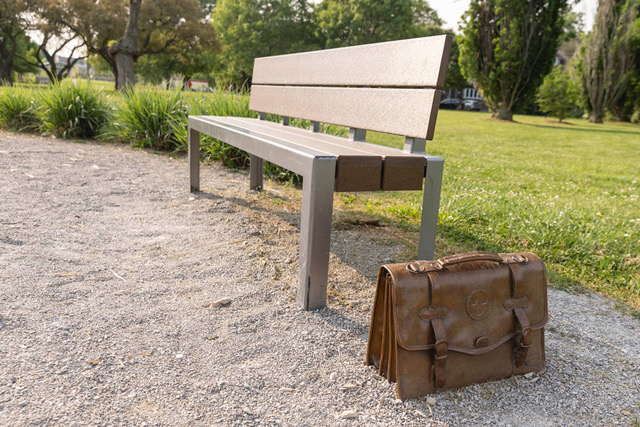 Singer connects to the installation on a whole other level. The 78-year-old resident of Toronto's Cabbagetown neighbourhood is Wallenberg's goddaughter. She was born on his bed.
It's a Hollywood-worthy tale that evolved over time, in a series of eye-popping twists, turns and coincidences—all amid Singer's own personal voyage of self-discovery.
The backstory is its own blockbuster: The non-Jewish scion of a wealthy Swedish industrial and banking family, Wallenberg, then just 32, was recruited by the U.S. War Refugee Board and dispatched to Budapest to assist and rescue as many Jews in the Nazi-occupied Hungarian capital as possible. He arrived in July 1944, just as the Nazis had shipped some 440,000 Jews from the countryside to Auschwitz. They now set their sights on the Jews of Budapest.
Accorded diplomatic status, Wallenberg famously set off on a frenetic pace. He designed, printed and distributed thousands of the famous "Schutzpass"—an official-looking document that placed the holder under the protection of the neutral Swedish Crown. He also scoured the city for buildings to rent, finding 32, and crammed in as many souls as possible. The "safe houses" flew the yellow-and-blue Swedish flag and were declared protected by diplomatic immunity.
Known for his bluster and bravado, his greatest coup came when he persuaded Nazi commanders to call off the liquidation of Budapest's Jewish ghetto, with its 70,000 inhabitants. The number of Jews Wallenberg is said to have rescued peaks at 100,000. In any event, he is  credited with saving more Jewish lives during the war than any single government.
By January 1945, the Red Army was laying siege to Budapest, and Wallenberg was taken into custody, supposedly on suspicion of being a U.S. spy. He promptly vanished into the gulag. A Soviet report in 1956 stated he had died in July 1947 of a heart attack in Moscow's notorious Lubyanka prison, but supposed eyewitness sightings and stories of contact with him from former inmates continued well into the 1970s.
In 2012, the diaries of a former head of the KGB, discovered in the walls of his Moscow home, stated there was "no doubt" that Wallenberg was "liquidated" in 1947.
But back to Singer.
On the night of Nov. 3, 1944, a desperate Tibor Vandor, who worked for Wallenberg as a courier and liaison to the underground, needed help for his wife, Agnes. She was in labour and had been turned away from Budapest's hospitals, which barred Jews. Wallenberg allowed the couple to use his own room, while he slept in the corridor.
The next morning, he was called in to see a newborn girl. Asked by the grateful parents to name her, Wallenberg chose Nina Maria Ava (Nina was his half-sister's name, Maria his mother's). The couple changed the first name to Yvonne, and Wallenberg agreed to be the child's godfather.
Singer knew nothing of this until she was 34 years old.
It was October 1979 when she read an article, reprinted from a U.S. newspaper, in the Toronto Star about Wallenberg's plight. The story included a reference to Singer's unusual birth taken from a Hungarian book on the Swedish hero written after the war. The baby with the Toronto connection, the parents, the godfather—were all there, mentioned by name.
When she read the piece, "I burst out crying," she told the Star after contacting the paper. Her story spilled forth a week later in a large Saturday Star article headlined "Swedish hero saved my life: Metro woman."
Singer is still struck by "the incredible coincidence of it all. Here I am in Toronto in 1979, reading the paper… it boggles the mind. I could have easily gone through life not knowing the story. Suddenly, I had a connection to this man, who sounds like he was fascinating."
Her parents had not told her the story. And there was another missing piece of the puzzle: their Jewishness.
At war's end, the Vandors went to Switzerland and Holland before settling in Montreal in 1949, where the parents shed their Jewish identities, doubtless seeking to forget. Tibor Vandor even became an elder in the United Church.
"I always pressed them for more information, and they always refused," even following the revelations in the Toronto Star, Singer recalled. "They told me very, very little." Her parents never revealed being Jews. Their silence encompassed "anything to do with the war. They were just not forthcoming."
Singer graduated from McGill University and went on to teach English and French at local high schools. She converted to Judaism to marry her husband, Ron Singer, a theatre director and educator, in 1966. A few years later, a cousin in England recalled being a flower-girl at Yvonne's parents' wedding, which she said took place in a synagogue. The parents denied it but their daughter believed it.
Singer's feelings of alienation as an immigrant child would evaporate on discovering that she had been born Jewish, whether the knowledge came from a cousin or the Toronto Star. "I felt like I'd come home, part of a history that goes back thousands of years. I no longer felt rootless."
The Singers moved to Toronto in 1971, where Yvonne later began a prolific art career in various media and teaching visual arts at York University. Raising three daughters and a busy life meant there was little time to get involved in the Wallenberg file (though she was pleased when he became Canada's first Honorary Citizen in 1985 and when Canada Post issued a stamp commemorating Wallenberg a decade ago).
It's little surprise that Singer's art has explored themes of identity, history and memory. The outsider status she felt in her early life "is what made me think about ways of expressing that, either through language or visual imagery. So you go to what you know when you're an artist."
In 2016, the Swedish government declared Wallenberg officially dead, but to Singer, that offered no finality. "From what I learned, the Swedish government is not exempt from blame for trying to get Wallenberg out. I cannot reconcile the fact that [Wallenberg's family] could not exert any kind of leverage over the Russians to find out what happened to him."
She considers the godfather connection to Wallenberg an honour, "but I'm also very sad that I never met him. I think he would have been a fascinating person to talk to. The story is just very, very tragic."
The grandmother of nine sighed. Over the decades, the story for her was obviously very personal, "and I was still processing it. Maybe I'm still processing it, for a long, long time."
A version of this article originally appeared in the Hamilton Jewish News. It is reprinted with the author's permission.