News – Diaspora
A 35-year-old Israeli man caused an Austrian Airlines flight from Vienna to New York to divert to Newfoundland after displaying unruly behaviour, according to CBC. The man, who has yet to be named, is charged with causing a disturbance, uttering threats, and violating Canada's Aeronautics Act.
According to two of its field commanders, Russia is providing Lebanese terrorist group Hezbollah with weapons "no strings attached," reports the Daily Beast. The commanders added that "direct interdependence" between them and Russia is growing strong. Meanwhile, Putin claimed today that Western sanctions are "severely" hurting Russia's economy. It's unlikely that there is an end in sight, though.
A machete-wielding 15-year-old attacked a Jewish man in the French city of Marseille this morning, French media reports. The man, a teacher at a Jewish school, was attacked near a synagogue and is lightly wounded. Due to the suspect's age, his identity has not been revealed. It has, however, been revealed – according to JNS.org – that the suspect yelled "Allahu Akbar" ("God is great" in Arabic) during the attack.
In Warsaw, hundreds marched in support of the State of Israel, organized by Christian organizations working in Poland. Marchers sang and danced in a show of support that Anna Azari, Israel's ambassador to Poland, said was unparalleled.
Czech extremists have been charged with encouraging racism and incitement after placing an anti-Semitic note on the grave of a murdered girl. The two right-wing extremists reportedly mentioned the "Jewish problem" in the note, a nod to the Nazis' justification for genocide during the Holocaust.
News – Israel
Reports indicate that Likud MK Nurit Koren (no relation) is looking to appoint Israel's first-ever Ethiopian judge. "My main goal in the committee is to make sure that is equal representation for all minorities among Israeli judges. We are a multicultural society, and so far there is a lack in equal representation," she said. Sounds like something a politician from an "apartheid" nation would say, eh?
Israel has confirmed that it will not release the body of Nashat Milhem until his family agrees with certain police requirements to ensure his funeral does not turn into a demonstration of support for terrorism against Israel. If history has taught us anything, Israel's premonitions are well-founded.
If you recall, an Israeli NGO recently ran a Facebook experiment to see if the social media giant does indeed harbour an anti-Israel bias, launching two identically hateful Facebook pages, one anti-Israeli, the other anti-Palestinian. The anti-Palestinian page was immediately taken down, while the anti-Israeli one apparently did not violate Facebook's community standards. Days later, Facebook admitted its "mistake" in not taking the page down. Mistake, or inevitable realization of very bad PR?
British rockers Deep Purple have announced their sixth Israeli performance, set to appear in Rishon Lezion in May. Considering how many times they've played, it would be foolish for Roger Waters to write them a letter – though that likely won't deter him. Hopefully it will, at least, serve as the catalyst for more name-calling from Howard Stern and Adam Sandler? Maybe they could do a song together…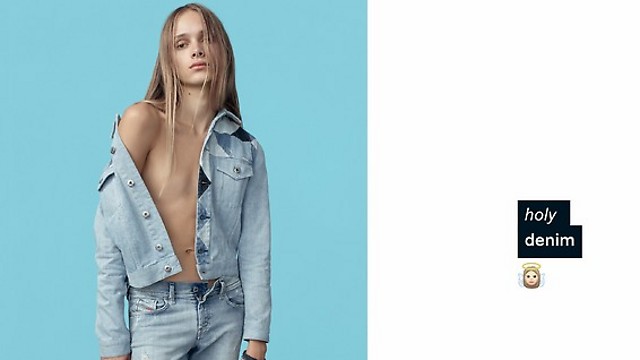 An androgynous Israeli model, 24-year-old Stav Strashko (who models both male and female apparel) has been chosen as the face behind Diesel's new global ad campaign. If you've seen previous Diesel ads, Strashko is a perfect fit. Anyone want to place a bet on how long it will take before some "pro" Palestinian group decides to boycott the fashion company?
Technology
Israeli technology will be part of a JUICE mission to Jupiter in a bid to find extraterrestrial life. The technology comes in the form of an atomic clock-like device, developed by Israeli firm AccuBeat.
For pet-owners who have properly trained their dogs, they'll know that leashes aren't entirely necessary, as their beloved canines will follow them around pretty much anywhere. An Israeli startup has mimicked this relationship between man and dog, with luggage. That's right, NUA Robotics has unveiled a prototype for a hands-free suitcase that uses Bluetooth technology in order to locate, and follow, its owner. Getting your luggage after a flight will never be easier.
Cars nowadays are being built with at least "some level of connectivity" which makes them susceptible to hacking. As such, an Israeli cyber security firm is looking to protect cars from being contaminated with malicious software. According to market researchers, some 420 million connected cars will be on the road as early as 2018.
Among thousands of new products debuted at the Consumer Electronics Show in Las Vegas, two inventions in particular received particular praise, winning the Last Gadget Standing Live Audience winner, and the Last Gadget Standing Online winner: both Israeli. One product is the Ripple Maker, which can reproduce any image onto your latte or cappuccino (so awesome), while the other is the VUZE camera – "the world's first sub-$1,000 360 degree 3D camera for virtual reality applications."
Health
Israeli researchers believe they've reached a breakthrough in destroying cells infected with the HIV virus, and plan on starting clinical trials on humans within three months. #LLIT (Long live Israeli tech).
Culture
Iconic (for lack of a better word) singer/songwriter David Bowie passed away at 69 last night after a battle with cancer. Bowie, who dabbled in Kabbalah, released his 25th album just last week.
Son of Saul, the Holocaust film The CJN referred to as a "dark imagining of concentration camp life," won best foreign film at the Golden Globes last night, while Crazy Ex-Girlfriend creator Rachel Bloom (a Jewish actor who rose to prominence through YouTube) won best actress in a television series, musical or comedy (in Bloom's case, her show is both). Notorious lover of Jews Mel Gibson made a big splash at the awards show, but in case you're wondering, no, we haven't forgiven him yet. Or, at least I haven't.
Sean Penn (whose father is Jewish) broke the Internet after his Rolling Stone interview with Joaquin "El Chapo" Guzman was unearthed (read it here). Andy Borowitz, of the Borowitz Report and Fresh Prince fame, penned a clever satirical article mocking the interview, titled "ISIS Chief Abruptly Cancels Meeting With Sean Penn." In fact, it was so clever that some publications believed it to be factual, including Deadline…….
Weather
It is -6 C and snowy in Toronto. Drive carefully, fellow Canucks.
---