Although I primarily read works of non-fiction, I've always had a soft spot for British mystery novels and detective fiction. This includes the work of Sir Arthur Conan Doyle (Sherlock Holmes), G.K. Chesterton (Father Brown), P.D. James (Det. Adam Dalgliesh)  and, of course, Agatha Christie.
A talented writer born into an upper-class British family in 1890, it took Christie seven attempts to become a published author. But when her first book, The Mysterious Affair at Styles, came out in 1920, she never looked back.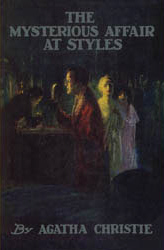 Christie's 66 detective novels and 14 short story collections have sold over two billion copies and have been translated into 103 languages. Books involving her two most famous characters, Hercule Poirot and Miss Jane Marple, are among the most widely read on any continent. Her 1939 masterpiece, And Then There Were None, remains the world's best-selling mystery novel, with over 100 million copies sold, and the play, The Mousetrap, has run continuously on London's West End stage since 1952.
The first Christie novel I ever read was Hercule Poirot's Christmas (1938). It's an intriguing tale of a murder that occurred on Christmas Eve. Hercule Poirot, a brilliant, quirky and obsessive-compulsive Belgian detective, is the main character. He uses intelligence, human nature and logic to solve mysteries.
He treasured his friends, such as Capt. Arthur Hastings and Insp. James Japp, who help him on his adventures. Poirot's appearance and proclivities made him stand out in a crowd, but his reputation proceeded him – and his detective skills were par excellence.
Unfortunately, there's always been a questionable element to Christie's writing, as she makes numerous references to Jews, Arabs, Catholics, blacks and others that are less than salient.
The Secret of Chimneys (1925), for instance, included a supporting character named Herman Isaacstein. He's a stereotypical Jewish financier with a large nose. The host of a lavish party he attended, Lord Caterham, made a casual reference to the "curious names these people have" and started calling him "Nosystein." Other guests immediately followed suit, although they shortened the offensive moniker to "Nosy."
There's also a less-than-subtle dig at Jews in Lord Edgware Dies (1933). Poirot asked Hastings if he knew that a secondary character, Carlotta Adams, was a "Jewess," because "she is shrewd and she is something more." Hastings acknowledged he had detected "faint traces of Semitic ancestry." This led Poirot to respond by saying that this trait "makes for success," but can also lead to "danger" due to a "love of money."
Other references are casually sprinkled over Christie's body of work.
The original title of And Then There Were None was Ten Little N—ers, after the old minstrel song, but it was changed when it was published in the U.S. There was also a special dessert that Lady Angkatell hoped to receive in Murder After Hours (1946) called "n—er in his shirt," which is chocolate pudding with whipped cream. There are assorted comments about "dagos," "wogs" and "Eye-ties" in other novels, too.
The Anti-Defamation League eventually complained to Christie's literary agent about the use of anti-Semitic and racist language. Upon receiving the letter, her American publishers were granted the ability to arbitrarily delete any references about Catholics, Jews and other minorities that were viewed as distasteful or bigoted.
Was Christie a racist or an anti-Semite? Her family and friends always denied it. They argued that most of the characters who made intolerant remarks were, in fact, seen in a negative light in her works. That's true, which means she was more likely a product of her times than a hateful soul.
With the passage of time, most people have opted to look past Agatha Christie's failings and admire her literary talents. When I occasionally pull out my treasured Hercule Poirot's Casebook volume from its bookshelf, that's what I do, too.