Your Daily Spiel is The CJN's daily roundup of trending stories in the Jewish world
---
CANADA
Rohr Chabad of Montreal's NDG community has launched a public fundraising campaign to buy the former church hall it occupies from the real estate developers that own it. Chabad's plans are opposed by councillor Jeremy Seale who used the "the overused Jewish guilt argument" to defend his actions.
David Birnbaum, MNA for D'Arcy-McGee, is calling on municipalities in Quebec to remove the name of Alexis Carrel, a French Nobel laureate, who was an alleged Nazi sympathizer, from public places.
UNITED STATES
According to the Foreign Desk, a Jewish Zionist from California recently opened up her Instagram account to discover that one of her posts violated its community standards: a photo of her against the backdrop of an Israeli flag. Many members of the community asked Instagram why they removed the post, which they reportedly restored after the Anti-Defamation League got involved.
Jason Dov Greenblatt, one of two advisers on Israel to Donald Trump, gave his first interview with Israeli media this week. "Someone like Donald Trump can bring peace to the state and the region. I have seen how he has constantly done things others said were impossible," Greenblatt said.
Zionist Union MK Tzipi Livni participated in a panel discussion at Harvard this week, where she was asked an unusual, and arguably anti-Semitic question: "How is it that you are so smelly?" The yet-to-be-named student is reportedly a president of a student organization.
A group of professors is suing the American Studies Association over its academic boycott of Israel. The four plaintiffs, who are members of the association, say that the ASA's support of BDS is a violation of its own rules.
ISRAEL
In a Congressional testimony, a terror finance expert said that there is a 'network' of former fundraisers who worked for organizations which support Hamas that also support pro-BDS groups. Read more here.
Israel's Ethiopian immigrants will unite for a seder in Jaffa on Friday, to be attended by some 1,600 Ethiopians, including roughly 800 children. The seder is part of the "Man to his Fellow" and "Communties Fund" as part of the Olim B'hatzlacha project, which gives financial support and employment guidance to immigrants in Israel.
Approximately 110 Israeli children who are orphaned or lost one parent celebrated their bar and bat mitzvahs in Jerusalem this week. Many of the participating children come from needy families.
WORLD
Days after a terror attack on a Jerusalem bus, Fatah, Mahmoud Abbas' political party, reportedly unveiled a video that glorifies martyrdom and urges the renewal of stabbing and car-ramming attacks against Israelis. If you can stomach it, watch the video below:
There's a change.org petition calling on the United Nations Educational, Social and Cultural Organization (UNESCO) to recognize the Jewish people's historic connection to Israel, in the wake of its decision to pass a resolution that completely ignores Judaism's relationship to the Temple Mount. Sign it here.
Anders Behring Breivik, who killed eight in 2011 bombing in Oslo and has since appeared numerous times giving a Nazi salute, had his human rights violated by authorities, an Oslo court ruled today. Breivik sued the government after he was kept in isolation. "The prohibition of inhuman and degrading treatment represents a fundamental value in a democratic society," the court said. "This applies no matter what — also in the treatment of terrorists and killers."
A German museum is displaying stickers from over 130 years of racism and anti-Semitism. The exhibition features a variety of anti-Semitic stickers from before and during the Nazi era, with messages such as "Jews out" and "You have bought from Jews! We are watching." There are also stickers that were deemed illegal at the time, including one that reads "Down with Hitler."
CULTURE
We've been given our first look at Elizabeth Banks as Rita Repulsa in forthcoming new adaptation of Israeli mogul Haim Saban's Power Rangers franchise. It's apparently Banks' first time playing a villain.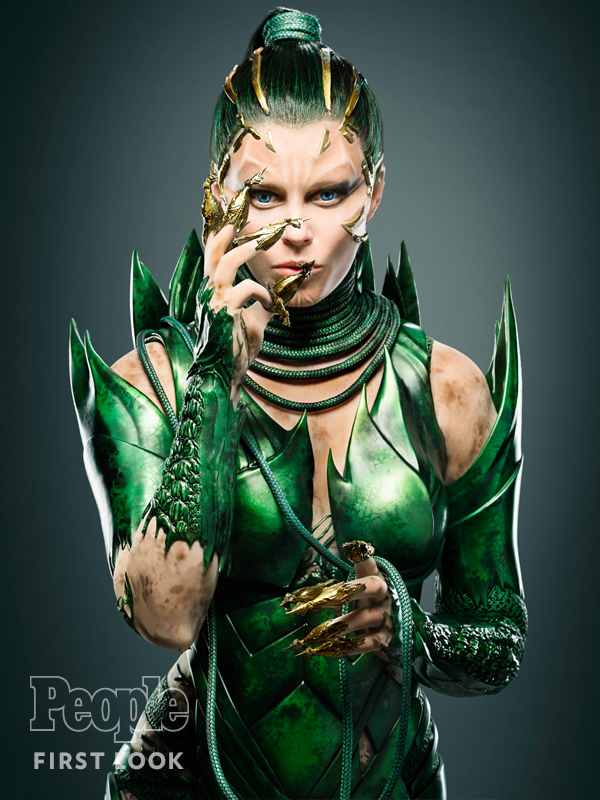 Julia Louis-Dreyfus revealed an awkward but funny situation involving presidential hopeful Hillary Clinton. Apparently, Clinton once sent Dreyfus an email proclaiming her affinity for her show, Veep. Years later, amid Clinton's email scandal, one that was exposed revealed she never actually watched the show. Oops!
The very clever new ad campaign for the Toronto Jewish Film Festival demonstrates that you don't have to be Jewish to enjoy these movies. Are YOU Jewish enough? Yes, apparently.
https://www.youtube.com/watch?v=SmGCmv0pFa4
---
Click here for yesterday's edition of Your Daily Spiel
Send ideas, news items to [email protected]