This feature story appears in the Rosh Hashanah 2021 edition of The CJN Magazine. Subscribe to our newsletter for details on how to get the rest of the issue and more from The Canadian Jewish News.

"The tattooing has taken only seconds, but Lale's shock makes time stand still. He grasps his arm, staring at the number. How can someone do this to another human being? He wonders if for the rest of his life, be it short or long, he will be defined by this moment, this irregular number: 32407."
—Heather Morris, The Tattooist of Auschwitz
It's short-sleeve weather at a North Toronto café, so the forearms of Pierce Goldman and his younger brother Max are visible. But something on them checks the eye: small markings in bluish ink; tattoos on closer examination. A closer look yields something unnervingly resembling the hastily incised numbers branded onto the arms of inmates of the Auschwitz-Birkenau death camp to mark them as Nazi chattel.
Both Goldman brothers proudly, almost defiantly, wear the same number their maternal grandfather, Schmerel Cynamon, received at Auschwitz upon arrival from the Polish city of Lodz: 140856—Pierce on his left arm, Max on his right. The inked digits are simple yet potent reminders of their heritage, and it's clear both men have given this a lot of thought.
"I did it because I feel what happened to my grandparents was because they were Jewish, and nothing else," explained Max, 40, who owns a plumbing contracting business and got the tattoo in 2018, 30 years after his grandfather died. "Because of this, the tattoo has become an eternal mark or symbol no less important than (the Passover) haroset or maror. We remember this period vividly every year; the tattoo is an eternal tribute to what can and has happened to us."
Pierce, who's 43 and owns a Toronto eavestrough company, accepts that his tattoo, which he got in 2019, may not go over well with Holocaust survivors who might feel there are better ways to honour them, and who naturally associate Auschwitz tattoos with trauma.
"The problem is, if you don't keep things relevant, they slip into obscurity," said Pierce. He got the tattoo mostly for his three young children. "It's hard for them to really understand. It's so much horror to understand what the extermination of a race means. I don't want to put that on them yet," he said. "They'll have the rest of their lives."
Tattooing was introduced at Auschwitz in November 1941 for Soviet prisoners used as slave labour. According to the United States Holocaust Memorial Museum's Encyclopedia of the Holocaust, the SS began systematically tattooing all incoming Jewish prisoners the following spring.
Auschwitz-Birkenau was the only camp to employ the practice. More than 400,000 numbers were assigned, but only those prisoners selected for work received them; arrivals sent directly to the gas chambers were not registered or tattooed. For some survivors, the numbers were indelible reminders of hell, a scar to be concealed. Others wore it as a badge of survival.
Auschwitz tattoos were spotlighted in 2012 with the release of the Israeli documentary Numbered. The film followed a middle-aged woman who put her father's number on her ankle after his death, and also told the story of a 28-year-old man and his grandfather, both of whom bore the same camp number on their arms.
The film prompted a front-page article in the New York Times about Israeli-born children and grandchildren of Auschwitz survivors who were tattooing their bodies with the same number that had been branded on their parents and grandparents. Not everyone applauded the practice.
While the motives behind it seemed pure, "one cannot help but wonder at anyone embracing a practice whose purpose was to dehumanize captive Jews," noted journalist Jonathan Tobin in Commentary in 2012. "While survivors who lived long enough eventually saw that most considered those numbers to be a badge of honour rather than a mark of shame, the act of fetishizing this evidence of the Nazis' crimes seems like something that said more about the current generation than it does about the experience of the survivors," Tobin wrote.
There's also been disapproving chatter about young people voluntarily replicating the death camp tattoos of their grandparents, who were forcibly branded.
On the other hand, as more and more survivors pass away, "we are moving from lived memory to historical memory," Michael Berenbaum, a professor at the American Jewish University in Los Angeles who is among the foremost scholars of the memorialization of the Holocaust, was quoted as telling the New York Times. He called the practice of younger people getting Auschwitz tattoos "a sort of a brazen, in-your face way of bridging" the transition. Besides, "it sure beats some of the other tattoos that young people are drawing on their skin."
Among Oded Ravek's loved ones, reproducing an Auschwitz tattoo is a family affair. Ravek, 65, an Ottawa glass artist, wears the number his mother, Livia Ravek, received at the camp on arriving from Slovakia: 4559. Oded's son, Amir, 30, who lives in Israel, has the same number. So does his daughter, Ariela, 27, an Ottawa student (though in Roman numerals). So does Oded's nephew in Israel. It's all the more poignant given that Livia Ravek is now 95 years old and lives in Rehovot, Israel.
Oded did it following an emotional visit to the site of Auschwitz with his parents about eight years ago. "Whatever we read about Auschwitz-Birkenau, it's no comparison to when you walk with your mom and dad in those places. You're living a nightmare (of) what they went through." After that, "I couldn't think of a better way to remember what happened, and to honour my mother."
He recalls unveiling the numbers, which he got from a "disbelieving" tattoo artist in Israel, to his mother. It was a Friday night, and he had brought her flowers for Shabbat. "It was a mixed bag. It was a shock. She thought I was crazy. But I explained to her why I did it. We hugged and cried a bit, and that was it."
Meantime, the next book from Heather Morris, author of the bestselling historical novel The Tattooist of Auschwitz, is titled Three Sisters, and will trace the wartime exploits of Livia Ravek and her sisters Cibi and Magda. It's due in October.
As with the Goldman brothers, two Toronto-area women received Holocaust-era tattoos simply to be intimately, eternally bound to their survivor forebears.
Marsha Shelson-Zweig, who lives in Richmond Hill, sports the tattooed number A-15697 and the Hebrew words "Remember Never Again" on the back of her neck to pay tribute to her grandmother, Helen Schwartz, a Polish survivor of Auschwitz and Bergen-Belsen who died three years ago at the age of 93. The markings are easy to conceal with her long hair.
"It was to honour her," said Shelson-Zweig, who's 42 and is a general manager of an electrical company. "The Holocaust and what she went through gave her drive. She loved everybody. She didn't want any race, any person to go through what she did. She spoke about the war, all over, all the time. That was her passion, to tell her story. It gave her purpose, to make the world a better place, to stop hate, and bring back the love and acceptance of everyone."
Mostly, reaction has been positive, Shelson-Zweig said, though she understands why some would not view it that way. Her own mother was initially against it. "When she saw it, she cried," Shelson-Zweig recalls. "She said it was beautiful."
It's much the same for Galya Hoffer, a 55-year-old Toronto homemaker and mother of three, who got the sequence A-14100 and a butterfly tattooed on her left shoulder blade in tribute to her late grandmother, Regina Langer.
"I was very close to my grandmother. She raised me for the first four years of my life. She was like my mother. I always wanted to go to Poland with her but she passed away before I could. This was a way to remember her," Hoffer explains. "It was just a way to remember my grandmother, on me, on my body, so she's always part of me, and just carry her with me."
And "everybody absolutely loves it. I've never had any negative feedback." Her grandmother would be "elated. She always talked about the Holocaust. She would have just smiled and said, 'Good for you.'"
The Goldman brothers recall that their grandfather, who died in 1988, hated his tattoo—he "carried it with trauma," Max said—and probably would not have approved of his grandsons' actions. But before the Holocaust, "I'm sure many Jews couldn't believe what happened before it ensued," Max offers. "Let my grandfather's mark remind us all where we were a short time ago." He feels that if his grandfather could see his grandsons' tattoos now, "he would understand the need."
No one interviewed for this article seemed too concerned that there is a biblical prohibition against tattoos. Leviticus 19:28 seems clear enough: "You shall not make gashes in your flesh for the dead, nor incise any marks on yourselves: I am the Lord."
In a 1997 ruling, the Committee on Jewish Law and Standards of the Conservative movement's Rabbinical Assembly found that regardless of the exact limits of this prohibition, such as whether tattooing was only part of pagan and idolatrous practices, the rabbis have "clearly extended" the prohibition, which is "explicit," to include all forms of tattooing, regardless of their intent.
While she agrees tattooing is forbidden by Jewish law because of its connection to ancient pagan practices, Rabba Rachel Kohl Finegold, director of education and spiritual enrichment at Montreal's Orthodox Congregation Shaar Hashomayim, believes that the idea of "embodying our memories is very Jewish."
"As Jews, we remember not only with our minds, but also with our bodies, whether we are eating matzah on Passover or lighting candles on Chanukah, we make our collective memories more concretized by involving the body. We even immerse our entire bodies with Jewish ritual when we are surrounded by the walls of a sukkah or the waters of a mikvah. These may not be permanent markings, but they are certainly ways in which we physically experience our Jewish narrative or collective memory," she said.
Rabba Finegold feels that even those whose survivor grandparents did not have numbers on their arms—this includes her—"bear the responsibility of their scars and their experiences. Perhaps we can find a plethora of ways to express their memories in our bodies."
Others believe historical context is key. When Leviticus was written, tattooing was largely a pagan practice, done to mark slaves or to show devotion to a deity, Marshal Klaven, then a U.S. rabbinical student, said in a 2008 interview. Since tattooing has evolved, he thought the rule may be outdated.
The Bible has both positive and negative references to markings on the body, pointed out Rabbi Lawrence Englander, rabbi emeritus at Solel Congregation, a Reform synagogue in Mississauga, Ont. The passage in Leviticus and the "mark of Cain" in Genesis are negative, but a positive one is seen in the book of Ezekiel, where it appears that prophets were marked with the Hebrew letter tav on their foreheads to distinguish them.
Rabbi Englander concedes that in Jewish law, tattoos have been frowned upon as a desecration of the body. However, views can change. For example, he noted, ear piercing by men is now considered routine and is supported by a biblical precedent: in Exodus, Aaron removes earrings from both women and men to fashion the Golden Calf.
As for tattooing Auschwitz numbers on one's arm, "I find that somewhat bizarre but I'm not one to judge how they wish to honour their survivor relatives. At the very least, it would be decent for them to ask permission of the survivor before copying their number."
Which is what Marnie Pettle did. She weighed replicating her grandmother's tattoo for a long time, then approached her 15 years ago "to make sure that what I was doing wouldn't be painful for her. I asked her, 'How do you feel about that?' She said, 'It would be an honour.'"
Both Pettle, a 40-year-old Toronto woodworker, and Jenny Choleva, a Warsaw-born survivor of Auschwitz, bear the number 49560 on their forearms, only Pettle's has the added words "never forget" in Yiddish.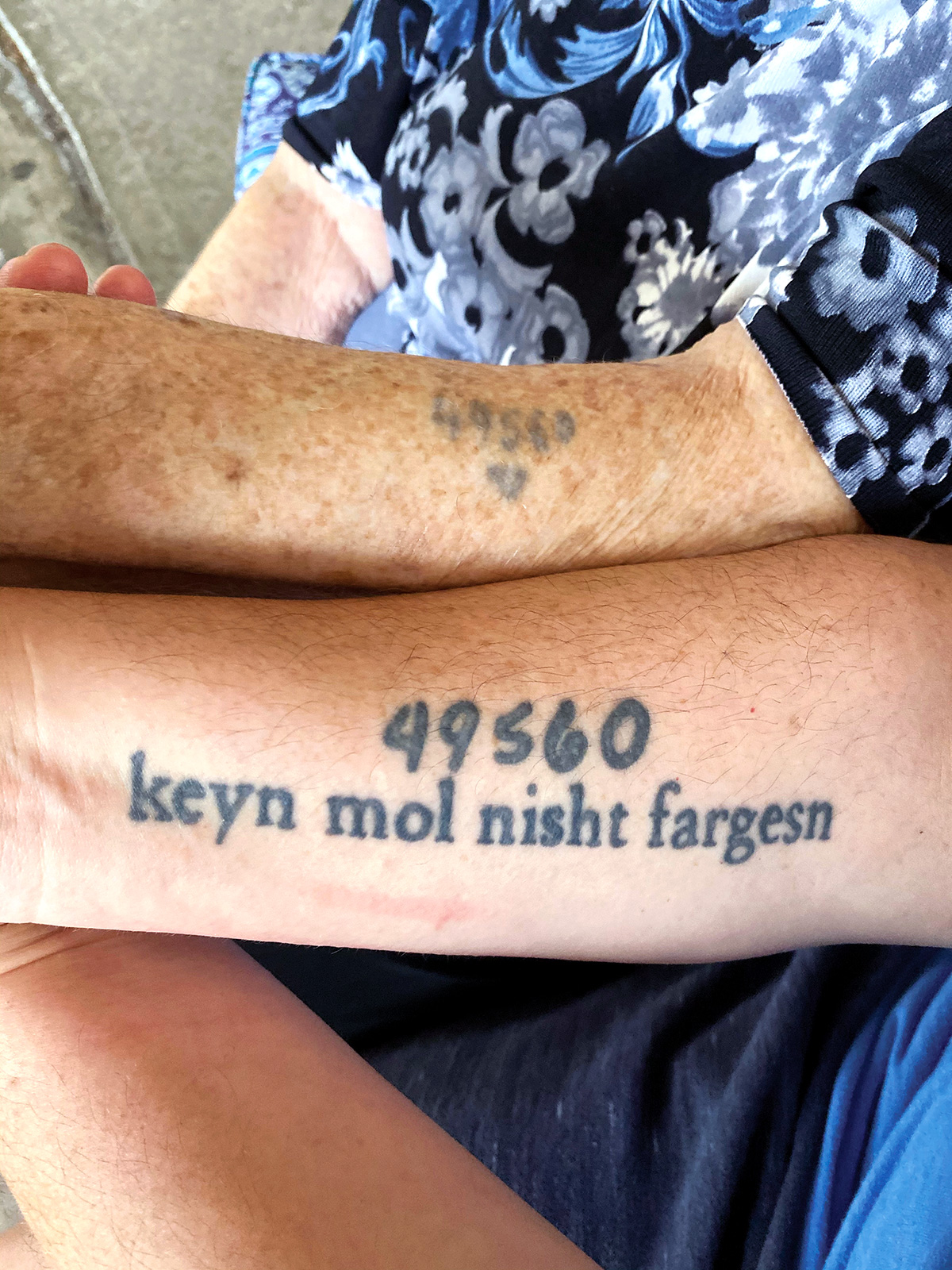 Her bubbe, now 94, is still proud. "Every time I used to see her (before COVID) she would always show people my tattoo, and hers."
Pettle uses it for education and discussion, especially among her non-Jewish friends. "I say it's not a happy tattoo. It's not going to put you in a good mood." She's received no negative comments.
A common myth surrounding tattooed Jews is that they may not be buried in a Jewish cemetery. It's acquired near-urban legend status, with one American rabbi dismissing the adage as "a load of rubbish." Rabba Finegold said it's just not true. "If we excluded Jews who violated even one Torah commandment from being buried in a Jewish cemetery, can you imagine anyone who would pass that test and get through the gates?" she wondered.
Nate Leipciger, a powerhouse on the Toronto Holocaust education scene, instantly recalls his own Auschwitz number, 133628, and the date he got it, Aug. 1, 1943. Over the decades, he considered having it removed, but kept it. "To me, it was a sign of life," he reasoned. "It meant hope. It meant all the positive aspects of life."
That's because only the inmates who received tattoos had a chance to live. "It was a gift of life. Once you had the number, you had the chance to survive."
He has no problem with survivors' descendants receiving matching tattoos. "It's a method of remembering, not only that they had grandparents who were survivors, but also commemorating them," Leipciger said. "I don't think there's anything wrong with it. I'm a positive guy."