TORONTO – Last week, Justin Trudeau became the first Canadian prime minister in over a decade to participate in the annual Press Gallery Dinner – former PM Stephen Harper never attended while in office. But Trudeau didn't just 'attend' and make pleasant chit-chat with those in the audience; he slayed them, cracking jokes about his bromance with Barack Obama, #ElbowGate, and even his own wife.
But in the end, it was Sophie Gregoire Trudeau who stole the show – just peruse the headlines. Attendees were enamoured with the beautiful Canadian First Lady, who danced, sang, and even showed up her husband at his own game of yoga poses.
Sophie Grégoire Trudeau shows up Justin with singing and infamous yoga pose https://t.co/iNuXjf1yKd pic.twitter.com/9nz5oZOFkc

— TorontoStar (@TorontoStar) June 5, 2016
When they weren't bantering – which was seamless and flawlessly executed by the way – the Trudeaus were performing and taking cues from one another. "I want to ask you to join me to welcome the mother of my oh-so-convenient and effective props, my children," Justin said as he introduced her. "What are you wearing tonight, Sophie? We all want to know," subtly mocking gala events like the Academy Awards.
"Oh thank you so much for asking," Sophie replied, gushing. "I'm wearing Canadian. All Canadian," before listing the designers who contributed to her outfit that evening.
For those in the audience who are members of Toronto's Jewish community, there was one name that likely stood out: jewellery designer and 'social' entrepreneur Kim Smiley.
Smiley, a Harvard University graduate and former Vice President of Donor Development with UJA Federation of Greater Toronto, started Sapphô by Kim Smiley in 2013 as a way to harness 'beauty for the public good.' Each Sapphô creation is handmade and a one-of-a-kind design, named after famous or emerging poets as part of Smiley's mantra to 'spread a love of poetry.' Sapphô has mainly spread through word-of-mouth and social media, but it also hosts 'trunk shows' at its showroom in midtown Toronto and at the homes of patrons. Twenty per cent of sales from such shows go to charities that are 'transforming the world.'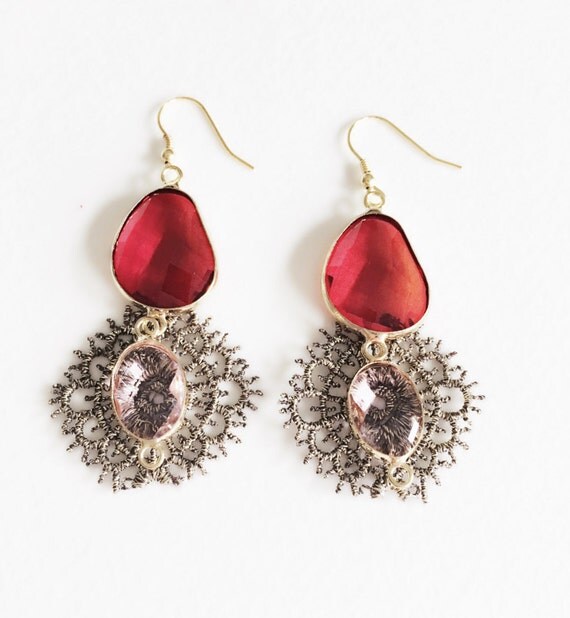 "My passion for social justice is deeply woven into the fabric of my business model," Smiley tells The CJN. "Sapphô is committed to hiring marginalized individuals, training them, and paying them a fair trade wage. With all the new exposure we've recently received, we are growing."
Smiley says she's humbled and grateful at Sophie Trudeau's decision to wear her earrings. "It's the break I've been working towards since I launched my company at Fashion Week in 2014 with the Toronto Fashion Incubator," she says. "For Canada's First Lady – the most notable trendsetter in the nation – to choose my jewellery, well, you just can't put a price on that. The industry is calling it The Sophie Effect."
Trudeau heard about Sapphô through her stylist, Jessica Mulroney, who learned about it through Facebook and Instagram. "Both women are champions of Canadian designers," Smiley says.
The 'Sophie Earrings' garnered particular attention thanks to Justin and Sophie's decision to recreate their iconic Vogue magazine photo spread at the Press Gallery dinner.
Hilarious night at the Press Gallery #Gala150. My pix for @CdnPress: #Trudeau #Vogue (via https://t.co/PkbvK1ac16) pic.twitter.com/wNGrW3bbIt

— Justin Tang (@jstntng) June 5, 2016
"I am thrilled I can count Sophie Trudeau as an ambassador for Sapphô, and equally excited about the fact that I can play a small role in heightening exposure for the value of social enterprise in Canada," says Smiley. "Wearing my jewellery is not just a fashion statement, it's a badge of honour. I believe beauty without purpose is devoid of meaning. Giving back is at the heart of my company's mission."
An advocate for social change, Smiley has also been busy with her 365-day initiative, The Empathy Effect. "I wanted to test the hypothesis: could empathy be contagious? So every day, for the past 362 days (except Shabbat), I posted a true story and photograph about someone transforming the world through empathy," she explains.
READ: USING SOCIAL MEDIA TO GAUGE 'EMPATHY EFFECT'
Since June 2015, the Empathy Effect has attracted nearly 115,000 followers across 50 countries on Facebook. The project has resonated so deeply, in fact, that Smiley has launched a second phase: The Empathy Pledge, which looks to raise funds for the charity that gets the highest engagement rates on social media during the course of her experiment.
To donate to the Empathy Effect, click here.